Working Results for 2007

 

 

 

SHOW GUNDOG WORKING CERTIFICATE
DAY


MONDAY 15th JANUARY 2007

 

 

This year the GRC SGWC moved to Wiltshire,
at Alton Barnes near Marlborough, by kind permission of

Mr C Cutforth and the Shaw Shoot and by invitation
of Jerry Shutter.

There was some delay in advertising the day,
as although the ground for the shoot was ideal, the only water
immediately accessible was a picturesque stretch of the Kennet
and Avon Canal. Obviously the canal banks were far too steep
for the 'novice' show dogs to attempt a water retrieve and there
might have been the added hazard of boats. Wendy Andrews (Catcombe)
who picks up on the shoot, kindly approached a local landowner,
Bruce Gauntlet and obtained permission for us to use his purpose
built pond, which is also used by the BASC for training days.

The judges were as usual our very own Field
Trial Secretary Gwen Knox and for the first time this year, Working
Test Secretary Bob Hargrave. The day attracted a very good entry
of 16 dogs and we were fortunate that during a very wet spell
weather wise, we enjoyed perfect conditions throughout. We were
graced with the presence of the GRC president John Tiranti who
also presented a beautifully carved stick to be raffled – this
was fittingly won by Mary Neil who had travelled with Fiona Brightley
from Scotland to take part.

 

Jerry's superb team of beaters and guns meant
that enough birds (pheasant and partridge) were provided on the
very first drive, for the majority of the dogs to complete (or
attempt) two retrieves. Two dogs sufficiently impressed the judges
on just one retrieve.

We then had to drive in convoy 11 miles to
the water, fortunately everyone managed to stay in touch! Not
only was the pond superb, there was a summer house overlooking
the water, so everyone had a grandstand view and refreshments
were served from there.

 

I am delighted to say, all 10 of the entered
Goldens passed.

The successful dogs were:

 

MOLOKO MCADOO, owned bred and handled by
Mary Neil



CANALEIGH HOT GOSPEL J.W., owned and handled by Carole Carter



AZTECA LATEST FLAME, owned and bred by Mr M & Mrs D Rose
and handled by Di Rose



TENFIELD SEA BISCUIT, owned bred and handled by Kim Ellis



XANTHOS ZINQ WITH GAYTONWOOD, owned by Mr A W & Mrs D E Rose
and handled by Dawn Rose – one of the youngest Goldens in memory
to pass, at one day under 10 months old



GUNHILLS GAME MASTER J.W., owned by Mrs J Wild & Mr F R Wilkinson
and handled by Jane Wild



DRUMKILTY JANEY MAC J.W., owned bred and handled by Fiona Brightley



MILLGREEN MIDNIGHT ROMANCE AT THORNWAIT, owned and handled by
Susanna Zubair



FRIENDBORN CHAOS IN GOLD, owned, bred and handled by Helen Kimberley



KELVERQUEST EYE OF THE STORM, owned bred and handled by Julie
Randall

 

The successful Flatcoats were:

 

YONSAFF RAMBLER FOR CLEOVINE owned by Mrs
J A Showell and handled by Mr D W Showell, who also retrieved
any straying dummies from the water



RAINESGIFT SEYMOUR owned by H M Tomlinson & L J Keight and
handled by Laura Keight



ESKWINDS AMAZING GRACE OF WINDYHOLLOWS J.W., owned by Mr E W,
Mrs P J & Miss N E Colson and handled by Nicky Colson

 

Report by Kim Ellis


 
---
PUPPY/NOVICE/OPEN and VETERAN
WORKING TESTS
SATURDAY 21st April 2007
held under Kennel Club rules and Field Trial regulation
at
Batsford Park, Moreton-in-Marsh, Gloucestershire
by kind permission of
Lord Dulverton
Places to 4th sponsored by: VITALIN
JUDGES: Mrs. D. Walls-Duffin, Mr. P. Bruton,
Mr. J.Keegan Mrs. L. Harris
RESULTS:
PUPPY

1st CAINHOE SCILLONIAN DOG 27/10/05

Castlemans Beaver ex Birdsgreen Accord

Owner: Scarlett Sentenbien Handler: Owner
2nd MOSCARGRANGE BLADE DOG 06/04/06

Holway Banjo ex Pebbletoft Lyric of Moscargrange

Owner: Mr S. & Mrs. A. Crookes Handler: Mr. S. Crookes
3rd MOSCARGRANGE BRISK BITCH 06/04/06

Holway Banjo ex Pebbletoft Lyric of Moscargrange

Owner: Mr. S. & Mrs. A. Crookes Handler: Mrs. A. Crookes
4th CLEYNEHAGE COTTON THE ONE BITCH 21/02/06

Cleynehage Pikeur ex Childrey Fennel with Cleynehage

Owner: Miss L. Blankenspoor Handler: Owner
NOVICE
1st HOLWAY READER DOG 08/01/04

Holway Banjo ex Holway Reema

Owner: Mr G.J. Bird Handler: Owner
2nd QUEENHILL MORGAN BITCH 19/03/05

Holway Banjo ex Siyu Rula of Queenhill

Owner: Mrs. M. Valentine Handler: Owner
3rd LAYTONCROFT JORGI GIRL BITCH 30/01/04

Holway Brook ex Misty Gleam of Laytoncroft

Owner: Mrs. C.E. Munn Handler: Owner
4th CASTLEMANS SMART HOOKER BITCH 17/03/03

Camburne Fennel of Lafayette ex Castlemans Classic Mood

Owner: Mrs. J. Hardwicke Handler: Owner
OPEN
1st SCHERZANDO PISCES DOG 10/08/02

Standerwick Remus of Merryway ex Scherzando Grundy

Owner: Mr. G.J. Bird Handler: Owner
2nd HAREMIRE DIANE OF HADDEO BITCH 08/05/01

Haremire Dipper ex Haremire Juniper

Owner: Mr. S. Robson Handler: Owner
3rd CLANCALLUM TAMDHU DOG 27/03/00

FT CH Rossmhor of Clancallum ex Clancallum Tummel

Owner: Mr M. Stringer Handler: Owner

4th MARCUS MAYBE OF WADESMILL DOG 04/03/01

Wadesmill Glen ex Blendworth Elsa

Owner: Mr. M.J. Wright Handler: Mr. A.S. Wright
VETERAN
1st F.T CH. HARESMEAD ISIDORE BITCH 02/06/97

FTCh. Rossmhor of Clancallum ex FT Ch. Redhorns Miss Ellie

Owner: Mr V.G.D. Olner Handler: Owner
2nd MOSCARGRANGE AMOS DOG 06/06/95

F.T. Ch. Tillwood Theseus of Holywewar ex Standerwick Pandora

Owner: Mr. S. & Mrs. A. Crookes Handler: Mr. S. Crookes
3rd TAUVECHAN JADE WITH CLEYNEHAGE BITCH 08/08/97

FT CH Tillwood Theseus of Holywear ex Leeglen Tornado

Owner: Laurina Blankenspoor Handler: Owner
4th HARESMEAD IOLANTHE BITCH 02/06/97

F.T. CH. Rossmhor of Clancallum ex F.T. CH. Redhorns Miss Ellie

Owner: Mr R. Marcham Handler: Owner
---
GOLDENS at SHERBOURNE
The BASC Team Challenge 2007 took place at
Sherbourne Castle and uses the same ground as the old International
competition before it moved. As per normal for a Bank Holiday
Monday the weather when we got to the show ground was wet and
cold. Someone remarked that they were warmer during the picking
up season!
There were eight teams of four dogs representing
The Cornwall Field Trial Society, Westward Gundog Society, South
Eastern Gundog Society, The West of England Labrador Retriever
Club, West Dartmoor Working Gundog Club, Purbeck Shooting School
Gundogs(last years winners), The Labrador Retriever Club of Wales
and of course The Golden Retriever Club.
In the GRC team were team captain Richard Ashdown
and Mistybrook Connor , Mike Knox with Tauvechan Minstrel, Sally
Crossland with Castlemans For Your Eyes Only and Simon Fowler
with Cainhoe Chapel Down. The team was very kindly sponsored by
Vitalin who supplied the very fetching shirts and caps that you
see below.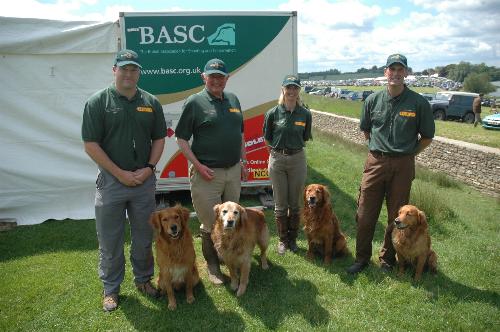 The format was four tests in the morning and
then two of the four dogs to compete in a test in front of the
crowd after lunch. Judges for the day were Mr Robert Atkinson,
Ms Sally Jenkins, Mr Basil Smith and Mr Adrian Verinder.
Test one was a mark to shot in thick bracken
and a blind with a shot from the same gun on the hill side. All
looked reasonably easy until you got to the sending point and
realised that there was a very attractive patch of branches and
scrub between the dog and the blind. The GRC team picked all the
dummies with Misty Brook Connor making the blind look incredibly
easy with a straight run to the dummy and not so much as a side
ways glance at the branches.
Test two was the most challenging test of the
morning, with a mark on a track halfway up the hill side of bracken
about 60 yards from the dog with a fence to negotiate as they
jumped into the bracken. As the dog picked the dummy and started
back a blind was put out in bracken about 50 yards further up
the hill. The dog was then sent for the blind, the bunker being
that the dogs wanted to dwell on the track where the first dummy
went out and out of the sight of the handler. There were 11 failures
on this test in total, but thankfully none in the GRC team!
Test three was a mark into a pond about 80
yards away, but the dogs couldn't see the dummy fall into the
pond, followed by a blind on the other side of a small copse at
about 45 degrees. There were 5 failures on this test due to dogs
not believing that the dummy was in the water and refusing to
enter the water speculatively. Once again the GRC team picked
all their dummies and scored well.
Test four was a simple walk up with each dog
having to collect a mark in front and a blind behind, Sally and
her dog making it look very simple with one of only three twenties
scored by any dog on any test during the day!
The morning had been really enjoyable, with
a little gentle ribbing of each other, the other competitors and
even judges! The view of the team was that all of the morning
tests were well thought out, resulting in hard but fair tests
of dog and handler and were really enjoyable to run in.
At lunchtime it was decided that Richard and
Sally would run in the afternoon test and we adjourned to the
nearest burger bar where the skipper brought the lunch. Mike asked
me to mention that he was forced into eating the burger and would
much rather have had a green salad, honest Gwen!
The afternoon test was really there as a spectacle
for the many visitors to the show and as such was not up to the
standard of the morning tests. The test consisted of a mark to
gunfire into the lake, through some reeds and a blind in a fenced
off triangular enclosure at the edge of the lake about 30 yards
away. The dogs was sent for the mark on the water first and then
for the blind. The only real problem was getting the dog into
the enclosure, which actually made some very nice dogs look slightly
stupid which was a shame!
The results were announced in the main ring
after a parade of all teams and as you've probably guessed from
the title of this article the GRC team won with a score of 298,
from the Labrador Retriever Club of Wales on 264 with the West
Dartmoor Gundog Club on 260. The GRC team was the only one to
have no failures on any test, which just shows how testing the
course was. The top dog was FTCh Larki Style owned and run by
Mike Larkin with Mike Knox running a close second.
The day was hugely enjoyable and well organised
and I'm sure all of the team look forward to defending the title
next year, hopefully with slightly better weather!
---
GOLDEN RETRIEVER INTERCLUB WORKING
TEST
JUNE 24TH 2007
AT NEVARDD FARM. CWMYOU
BY KIND PERMISSION OF RICHARD MORRIS
HOSTED BY THE GOLDEN RETRIEVER CLUB
OF WALES  
JUDGES.
Jamie Bettison
Graham Cox
Brian Gregory
Jonny Morris
Judy Rainey
Annie Wales
CHIEF STEWARD Frank Wright
DOG STEWARD Iris Wright
Hon Secretary Lucy Jenkins  
1st. South Western Golden Retriever Club 464
points
2nd Eastern Counties Golden Retriever Club
436 points
3rd. Northern Golden Retriever Association
431 points
4th Golden Retriever Club of Wales 423 points
5th Golden Retriever Club of Northumbria 418
points
6th Berkshire Downs & Chilterns GRC 414
points
7th Yorkshire Golden Retriever Club 413 points
8th Southern Golden Retriever Society 411 points
9th Golden Retriever Club of Scotland 400 points
10th The Golden Retriever Club 394 points
11th Midland Golden Retriever Club 367 points
The Winning SWGRC Team

---
GRC ALL AGED STAKE
held at Notley Hall, Black Notley, Essex.
on 1st September, 2007
by kind invitation of The Black Notley
Syndicate


Judges: K. Doughty, S. Ellis, Mrs G. Hillier, N. Coates.

Results:


1st : D Barnes' (d) Birdsgreen Stormbreak over Millgreen (Canburne
Fennel of Lafayette ex Elmbrook Kitty)

2nd : Mrs A E Sanders' (b) Tarinomagh Tulka (Wadesmill Glen ex
Lonelinar Delisa)
3rd : Mrs J Baveystock's (b) Baveybuilt Tiffon
Too (Moscargrange Amos ex Baveybuilt Merlot)
C of M :
J Bates' (d) Leeanchor Golden Boy (Holway Brook
ex Pebbletoft Solo of Leeanchor)
Mrs K McCarthy's (d) Castlemans Running Game
(Canburne Fenel of Lafayette ex Castlemans Clasic Mood)
B Julien's (d) Skywalker D'Aspe et D'Ossau
(Bramhills Brookmint ex Skychanel of Glen Shellag)

Guns' Choice: Mrs K McCarthy's Castlemans Running Game
---
GRC Open Stake for 24 Goldens
at Checkley Wood,Cheshire
on 15th/16th October
by kind permission of Mr Ivor Beavis
& the generous support of the Guns
Judges: M Bettinson, PJ Wagland, D Probert,
R Tomlinson
Result
1st Coupar's Piaute Pete who qualifies for
the Retriever Championship

(Robenda Paiute x Woodsprite Mist)


2nd Atkinson's Holway Volley

(Standerwick Remus of Merryway x Holway Evita)


3rd and Gun's Choice – Ashdown's Mistybrook Connor

(Moscargrange Amos x Courtridge Chelsea)


4th Hargreaves Birdsgreen Ash

(FT Ch Kessgold Volvo x Birdsgreen Pampered Gale)


COM Atkinson's Merryway Purdey of Holway

(Holway Banjo x Holway Rolo of Merryway)
The 3rd place dog also won the award for a
dog who also had a show

award which he won at the GRC Championship show this year.
The rain held off until the end of
the trial and there was
plenty of game to test the dogs. 15 dogs went through overnight
7 of these were lost in the third round on the second morning.  
---
The Golden Retriever Club

14 dog Novice Stake
on
Monday 26th November 2007
held at Teffont Magna, Wilts.


Judges; Mr. B.Taylor, Mrs. T. Salaman, Mrs. A. Crookes
Results
1st. Mr. N.Haines… Mistybrook Brace

(Moscargrange Amos x Courtridge Chelsea of Mistybrook)
2nd.Mr. J. Bates….Leeanchor Golden Boy

(Holway Brook x Pebbletoft Solo of Leeanchor)
and 2 COM's
Mrs. C. Munn …Laytoncroft Jorgi Girl

(Holway Brook x Misty Gleam of Laytoncroft)
Mrs. J. Bavistock….. Baveybuilt Tiffon Too

(Moscargrange Amos x Baveybuilt Merlot)