WORKING RESULTS 2022
Golden Retriever Club Annual Breed Working Tests 2022
Held at
Owlpen Manor, Dursley
on
Sunday 24th April 2022
by kind permission of Sir Nicholas Maunder. Generously sponsored by Skinners Dog Food & JTAC K9 Training Equipment.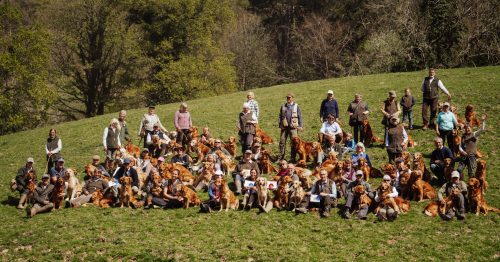 There are more photo's available on this link Click on the link and use the password  Inpark
Golden Retriever Club Annual WT 2022 photo gallery here:
https://www.featherfoundstudio.com/eventgallery
Judges:
Mr Haydn Willmott
Mr Morton Redpath
Mrs Hillary Rosser
Mr Tyrone Axford
The weather was perfect and it was truely a golden day!
Results:
Puppy
1st WELLS TRIP OF FOXCOTE Jill Gardner
Special puppy
1st TULLYSEDGE LONE STAR Jon Debnam
2nd OAKLEYCREEK ARYA Steve Bancroft
3rd HANANS GOLDEN GIRL Anne Strachan
Novice dog/Novice handler
1st GAYTONWOOD BROWN EYED GIRL Susan Carlyle
2nd CALLADEE VILLENEUVE BEAU Hannah Atkinson
3rd HICKORY WHITE ROSE Norman Parsons
Novice
1st WINBECK WYRE OF FOXCOTE Jill Gardner
2nd HANANS GOLDEN BOY ON THE HILL Steve Lax
3rd ELKSHEAD FLAME Cecilia Erhabor
4th TALLYGOLD GLIMFEATHER AT DEADCRAFT Judy Rainey
Open
1st CASTLEMANS SOUL MAN Adrian Phillips
2nd ABBOTSHALL HAWKEYE OF COPPERBURN Helen Burnie
3rd HADDEO JAMESON Andy Fisher
4th KALITURE RED PEPPER Lucy Mixture
Veteren
1st OCEANRED CANVAS BACK Chris Marchant
2nd FALLOWEEN OLYMPICS RINGS Christine Collins
3rd PANDAPAWS ARRON STAR Sara Bond
4th FRIZELWOOD ANISHA Anne Strachan
RESULTS FOR NOVICE STAKE
Friday 21st January, 2022
Knowle Farm, Bowerchalke, Wiltshire.
By kind invitation of the Mann Family
 Judges: Mr. N. Coates (A)   Miss J Evans (B)  Mrs J. Gardner(np)  Mrs H Ford (np)
 1st   ANDY FISHER'S (d)   HADDEO JAMESON  (Tallygold Mulberry ex salander Lady Jane of Haddeo)
2nd  & (Guns' Choice)  JANE MIDDLE'S (b)   VAMP CLOVER  (FTCh. Holway Cider ec Vamp Angelica)
3rd  CHRISSIE THOMAS' (d) ROUGHBEAT MELCHIOR (Echobrook Dexster ex Souter Red Hot Chilli at Roughbeat)
 CofM  MARGARET ALLEN'S (d)  WINBECK LOYAL KINSMAN OF TANDERSWELL
RESULTS FOR GRC ALL-AGED STAKE 2022
ALL AGED STAKE
Friday 14th January, 2022
Ogbourne St. George, Wiltshire.
By kind permission of Mr. R. Copplestone
Judges: Phil Bruton (A) Karen McCarthy(B) Beth Payne(np) Stuart Robson(np)
1st Sue Jordan's B TULLEYSEDGE INCAS GOLD (Karnousty in the Rough ex Tulleysedge My Belle Nell)
2nd Jacqui Crewe's D HANNANS KERTIS (Echobrook Dexster ex Frizzelwood Anisha)
3rd Margaret Allen's D WINBECK LOYAL KINSMAN OF TANDERSWELL (Alamy Ezra ex Belinda Bonnie Rubette)
4th Helen Burnie's D HEASLEYDRIVE GOLDEN MILLER OF COPPERBURN (Joyful Hugo of Philchris ex Brinsworthy Thatcher)
C.of M. & Guns' Choice
Judith Evans' D HADDEO DIGBY (Tallygold Mulberry ex Salander Lady Jane of Haddeo)